It is that time of year when in the aftermath of Christmas it is appropriate to take a moment to reflect on the year just past and the year ahead. 2017 has been a very positive year for The Old Print Works. We have seen many of the organisations based in The Old Print Works thrive.
The GAP Arts Project moved in early in the year and, together with a really active Ort Gallery, they have excelled in arts provision and community engagement. Moseley Yoga, again new to OPW in 2017 has gone from strength to strength with a wide range of yoga courses on regularly throughout the week, with some fabulous deals to make yoga affordable for all. Hidden away at the back of the building, and standing firm in the face of waning provision in Birmingham, is Sundragon Pottery. A membership-based makerspace since 2014, they started putting on regular pottery courses in 2017 which have proved a real success.
There are many individual businesses and artists who have used OPW as a base and who continue to grow and others who have recently relocated to us. To name a few, Jamie makes fabulous bespoke pieces at Seed Furniture, Hermon from Erokaworld is a maker of unusual clocks and tables, Jon is a restorer of heritage buildings, which you can see here, and Jonnie is using OPW as a base for his PhD work.
Many of you will have seen the new sign that was a long time in coming as we toyed with different designs that tied in with our old logo. In the end, we decided to go for a full rebrand, and were much happier with an all new design based around a new logo. Manufacturing and implementation constraints delayed us further, but we partnered with one of OPW's skilled makers to finish it just before Christmas and we love it! Let us know what you think. We are sad to see that Clifton Steel, who cut the aluminium for us, are closing down.
We have invested, with the support of a grant from Birmingham City Council, in super cycle parking facilities in front of Ort Cafe and The GAP and also in the courtyard, which includes lighting and a repair station. A grant from the Positive Futures Fund will help us to expand The GAP's arts space.
We had two performances from The Rep, as part of their Barry Jackson tours, and also Cucumber Writers put on an evening of short plays about The Old Print Works. We hope to develop more of this activity in 2018, already having The Rep booked in again.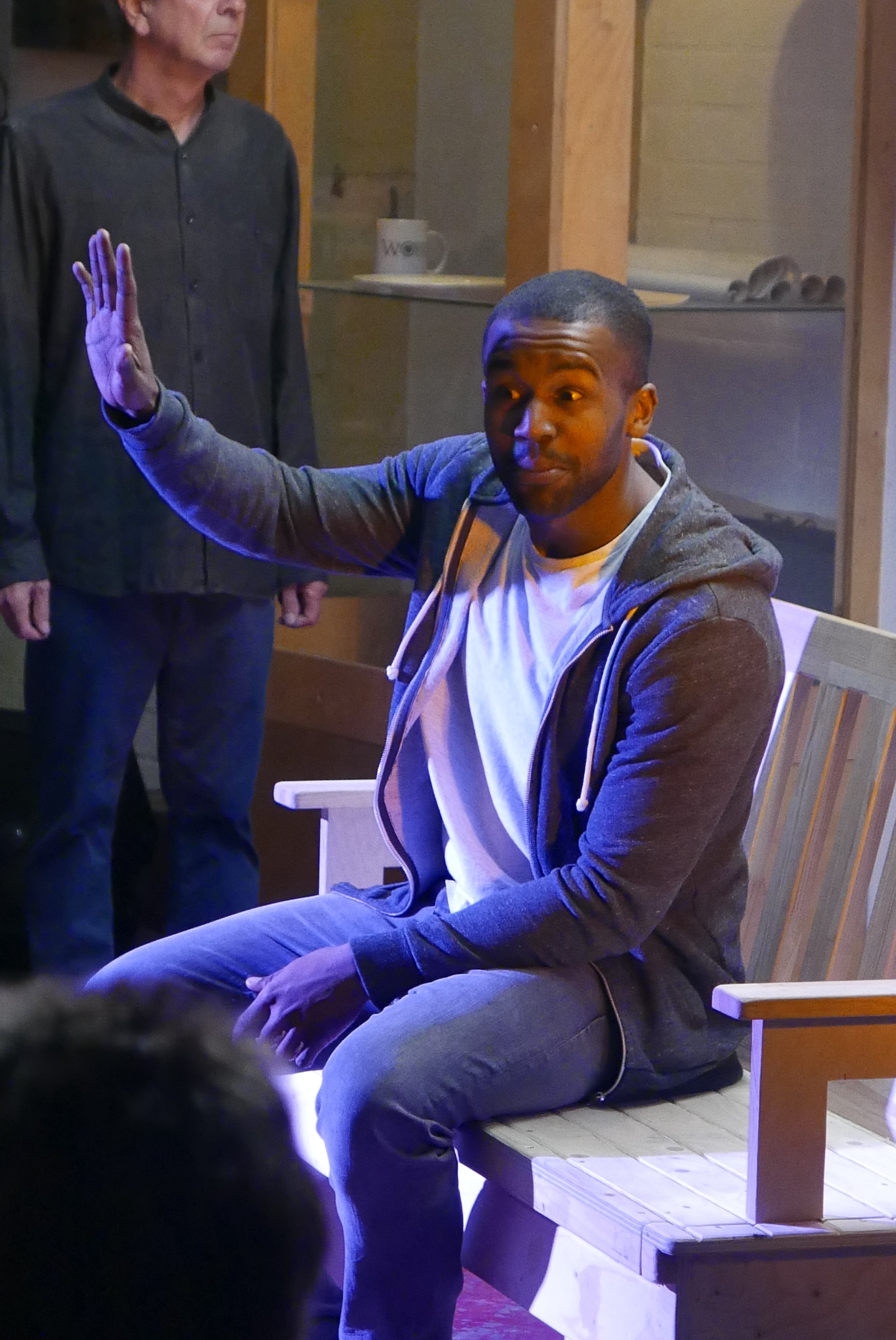 Birmingham Rep's production of
'I Knew You.'
We have had many people use our spaces as backdrops for filming. This great film by Koala TV promoting dance was filmed largely at OPW.
We have had growth in attendances at Daily Thread, our community textiles sessions, and have opened up some new times with the help of a couple of great volunteers. We also have seen The Transfer co-working space become a favourite location for many local freelancers and people who previously worked from home.
So in 2018 we hope this growth continues. 18 months ago we were close to closure but we took a collective risk, which has slowly paid off. In revenue terms, Make It Sustainable, the charity that runs OPW, is now stable and getting better. We have made significant progress in trying to purchase the building. We were offered a loan from the Arts Impact Fund (AIF - a fund supported by NESTA and the Arts Council). This has lapsed as we ran out of time piecing together the other funds we needed but we are still very hopeful of financing the purchase in 2018 as we are still in contact with AIF, and also with the Local Enterprise Partnership and a number of other potential funders. So the prospects are good.
We are undertaking the development of a 5-year strategy as we know we still have a long way to travel. Our ambitious vision is outlined below, and we will be looking in the early months of 2018 in more detail with the board, our unit partners and associates at how we can work together to make it happen. If you have views that you want to put across do email them to us on info@oldprintworks.org.
What should be the characteristics of The Old Print Works in 5 years' time?
A versatile building that works & welcomes
An inspiring & confident image
Part of a thriving local cultural offer (adding economically to the area)
A happy & successful internal community (both community facing and business oriented partners)
A centre for making, having an social impact in the local area
A proud heritage building demonstrating a sustainable footprint
Wishing you a very happy New Year.